The week of November 15th, we created 3 dimensional art from chocolate. We had the following requirements:
*No larger than 13" x 9"
*Must not have inedible supports
Aside from those slim requirements, we had carte blanche to do whatever we pleased. We were judged 50% on technical ability (how well our chocolate was tempered, molded, etc), 30% on artistic interpretation, and 20% on degree of difficulty. We sculpted, modelled, molded, and poured chocolate to create pieces of edible art. I'd rather you didn't eat it, though.
I had originally intended to create a chocolate set of drawers, with drawers that pulled out and had clothes inside. Once I built it, though, I realized I was thinking too small. I built an entire goth teenager's room.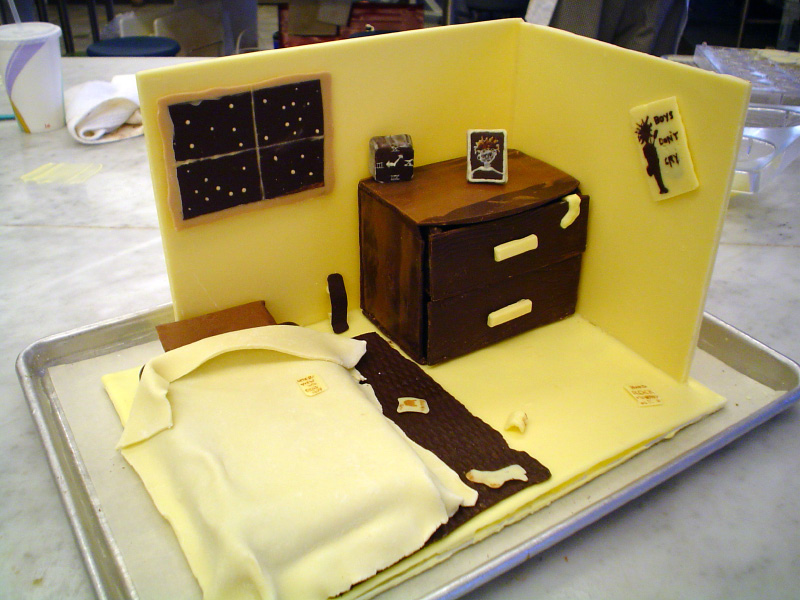 The bedclothes were made of molding chocolate, and the pillow was made by pouring tempered chocolate into an envelope made from parchment paper. This is the chest of drawers, with a photograph, alarm clock, and socks hanging out. I really liked that little alarm clock - it's about as big as a dime.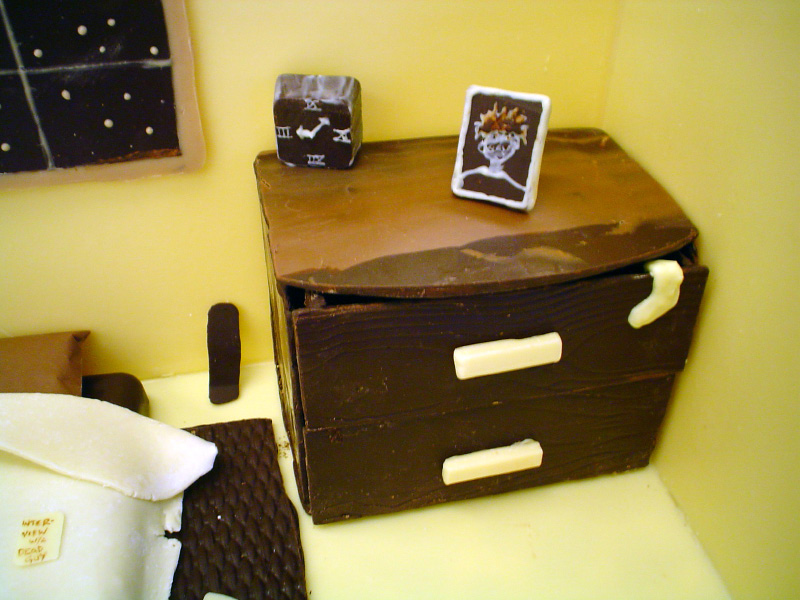 Inside the top drawer - underwear and socks. Yeah, I actually made white chocolate Y-fronts.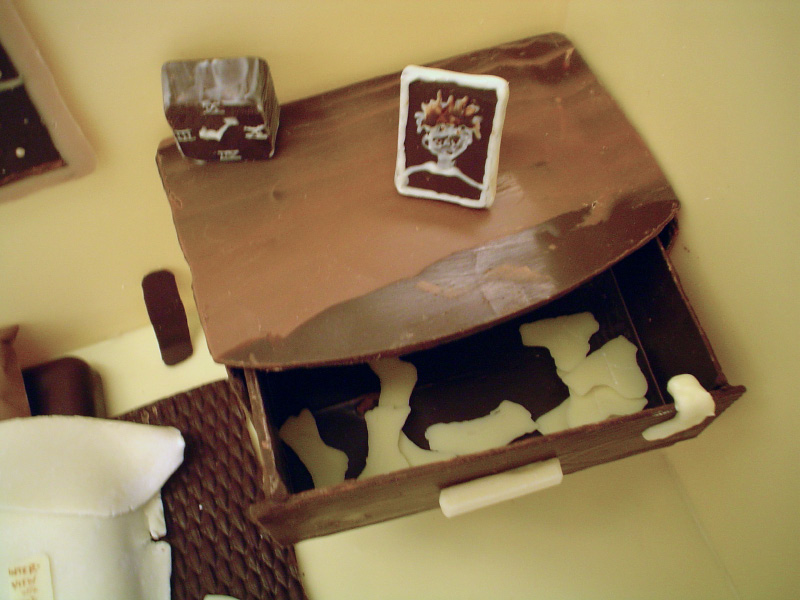 Bottom drawer had pants and shirts inside. You can see the Fangoria and Hard Rock magazines on the floor.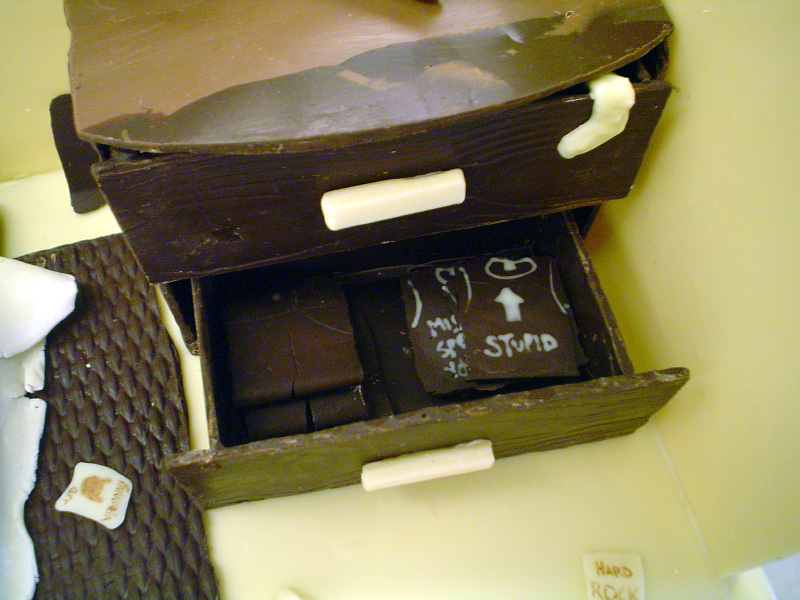 A closeup of all of the shirts I made - "Stupid", "Hot Tamale", "Pseudo Rebel", "Misspent Youth", and of course, "Your Mom".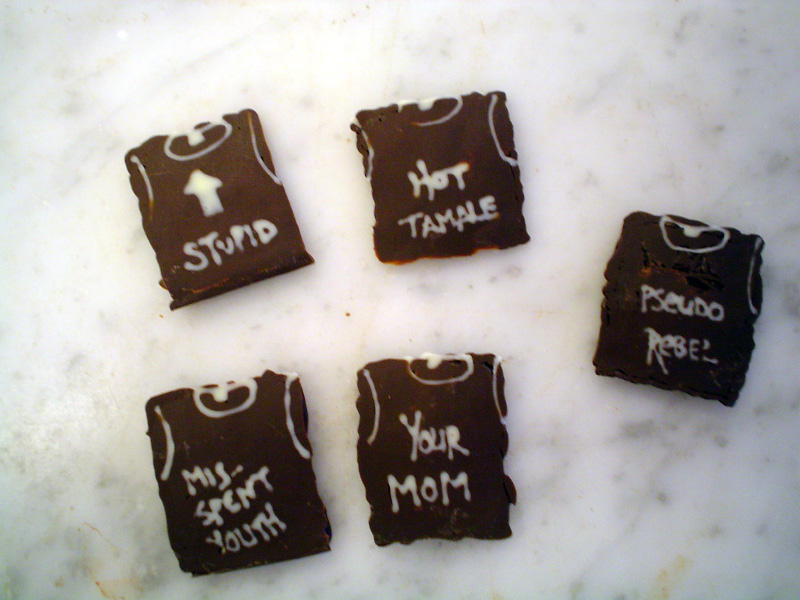 Side view of the room, with a Cure poster on the wall. I made the poster and shirt designs by drawing on one side of parchment paper, then flipping it over and tracing the design in chocolate. That way I had a perfect flat surface.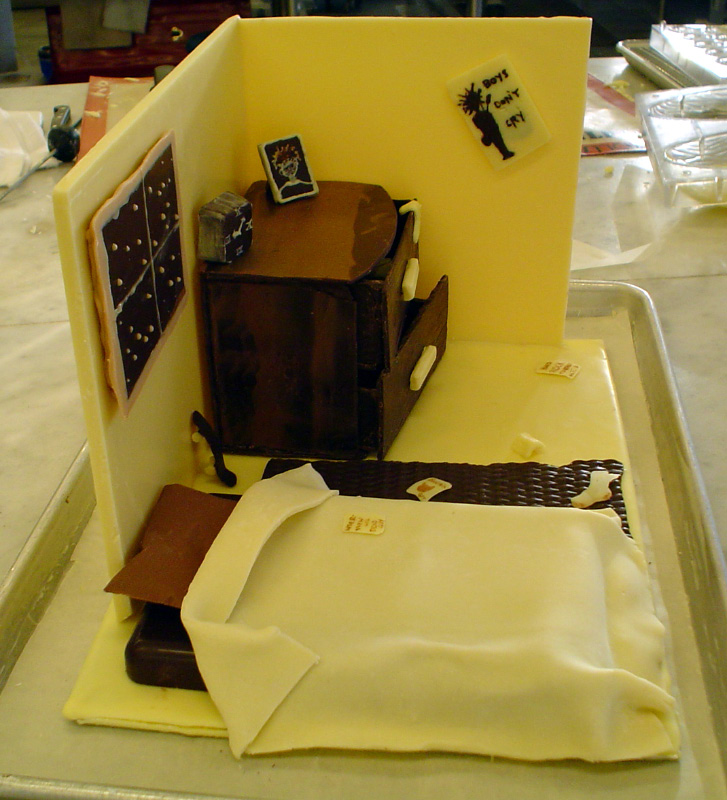 I had the most fun with all of the little details in this piece. The dirty socks on the floor, the alarm clock, the magazines, the poster. I was grinning nearly the entire time, and got an A on it. Chef Ian had almost as much fun exploring all of the details as I did creating it.