I enjoyed making fruit tarts, even more than I enjoy eating them. The pastry cream becomes a canvas, and you paint with fruit. There are rules to which fruit can be used - nothing hard like pears, and you have to cut out the nonedible portions. This is where I learned to segment oranges properly, among other things. That's the cool bit about pastry work - you're learning skills that you'll apply to so many other things.
This one broke the rules a little. Usually I wouldn't use bananas, since they discolor so fast. but I absolutely love the colors in this one, even if my instructor, Chef Peggy, absolutely hated it. It was my first experience with someone completely tearing my work to pieces. She hated the line of mango, she hated the blueberries ('they look like a black void there', she complained), she hated the half strawberry in the center. Until she got hold of it, though, I had been very proud of this.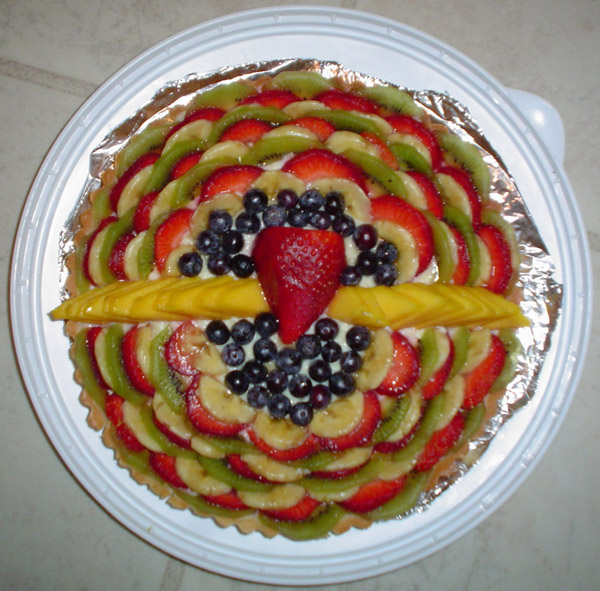 I made this one kind of in revenge, I think. Broke all the rules and purposely built straight lines all over the place. I would never actually build something like this again, not unless I was irritated with whoever was going to eat it. There's no graceful way to slice it at all.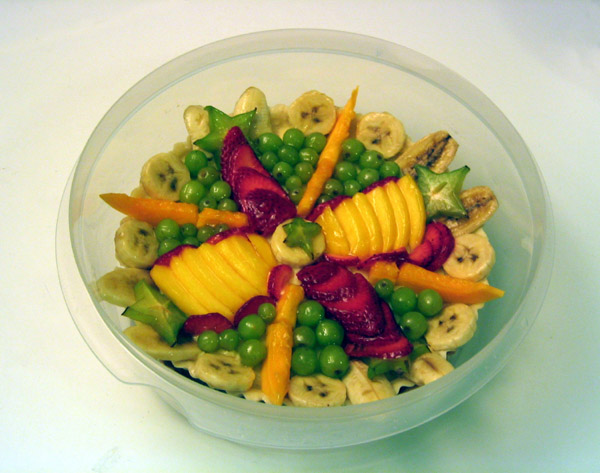 I built these little berry tartlets, later.