These images are from the Buffet Project, which occupied my nightmares from the week of August 2nd to 6th, 2004. There were a lot of frazzled nerves that week, and a lot of things to be made. Requirements for this project, all pieces to be arranged on a mirror, were 3 pieces each of napoleons, petit fours glace, cake pastry, baklava, chocolate S, pithivier, almond paste item, cream horn, eclair, and a pyllo dough item. We were given some free range, as you can see, and yet it was specific enough. We were at each others' throats this week, and we managed not only to not kill one another, but to make some very nice looking mirror trays.
For my cake pastry, I made three different kinds. I made pyramid cakes: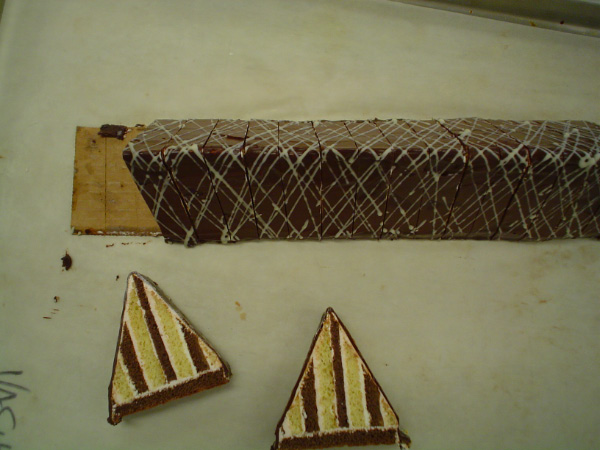 I also made checkerboard cake. This was my spin on checkerboard cookies, and I was the only student who had them on their tray.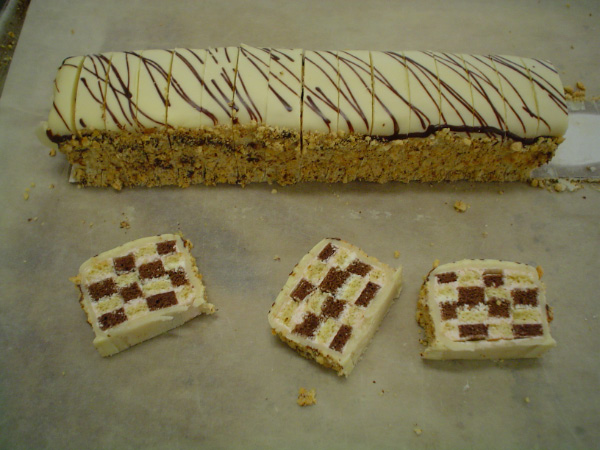 There were also creamhorns. I coated them inside with white chocolate, and filled them with pastry whip (whipped cream and pastry cream, blended together), topped with a raspberry and drizzled with white chocolate. Mmm.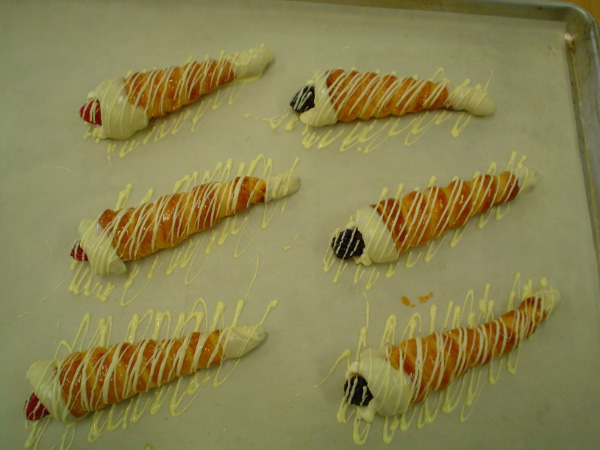 Of all the things I had to make, I think I had the most fun with the petit fours glace. I played around with the format and the icing a lot before settling on the final pieces. The dice were my favorite, and I would use that idea in my final project.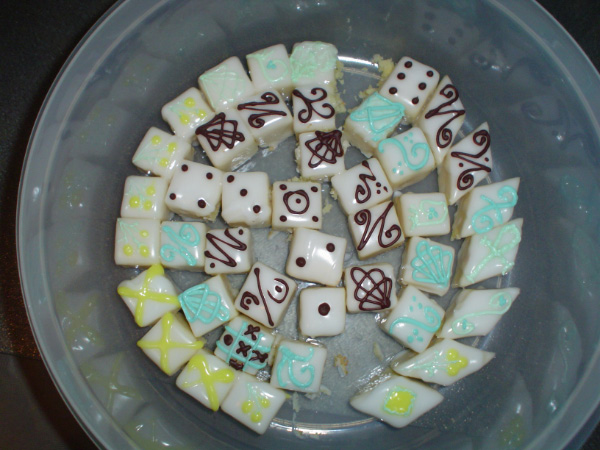 It was very difficult to fit everything on my tray. It was only an 18 inch mirror. In retrospect, I should have made the pyramid cakes smaller, and maybe not been so ambitious with the extra credit. It's a little crowded there.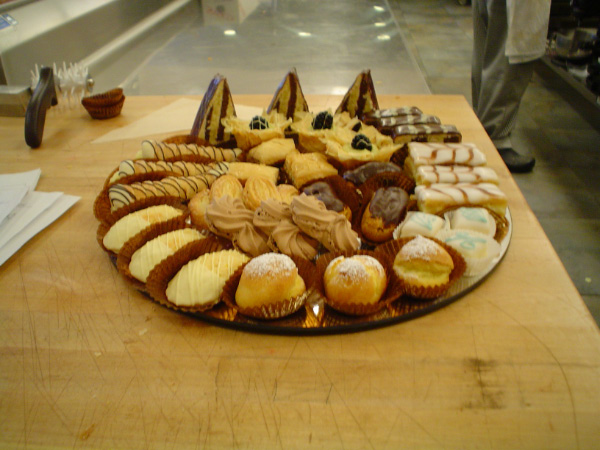 My tray contains: outer ring - clockwise from top, pyramid cake, checkerboard cake, napoleons, petit fours glace, cream puffs, white chocolate dipped raspberry madeleines, cream horns. In the center, clockwise from top, phyllo cups with pastry cream, chocolate eclairs, chocolate S, pithiviers, and baklava. It was a lot of work, a lot of fun, and a lot of leftovers to munch on. I'd forgotten to put my almond cookies on the tray, but Chef Casey was lovely enough to let me get them. I think I got a B on this.