Our final project was our last chance to really show off. Typically the final project was a mixed-media showpiece, but Chef Ian changed things around a bit, and required our final projects to contain:
*A mixed-media centerpiece of pastillage, chocolate, cocoa painting, marzipan, sugar, and/or gingerbread, etc.
*At least six pieces of petit fours glace
*Petit fours sec (cookies, tartlets, etc)
*Chocolates
*Sugar confections besides chocolate

We incorporated just about every skill that we'd learned so far in to one last piece of work. It was amazing to watch everyone around me creating all of these amazing works of art. It was sobering to realize exactly how far we'd all come in just nine months, and I was very impressed with the sheer amount of talent surrounding me. I had some stiff competition here, clearly.
I came up with a gaming theme for my tray. Most of the students had a theme for the centerpiece, but I went full-bore and carried the game theme to most of my desserts as well. I presented the final result, with nervous anticipation: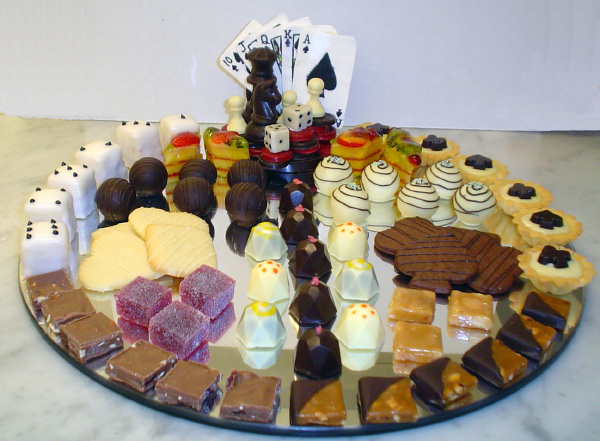 My tray contains petit fours glace (dice), key lime tarts (with card suit chocolate decoration), chocolate dipped croquant, chocolate bark, almond brittle, raspberry jellies, vanilla and chocolate shortbread card suit cookies, fruit tartlets, dark chocolate dipped truffles (dark with dark chocolate zigzag), white chocolate green tea truffles (white with dark swirl), white chocolate molded chocolates (white with orange dots), and white chocolate covered irish cream (white molded truffle with yellow), and my favorite piece, honey rosewater chocolates (dark with candied rosepetal).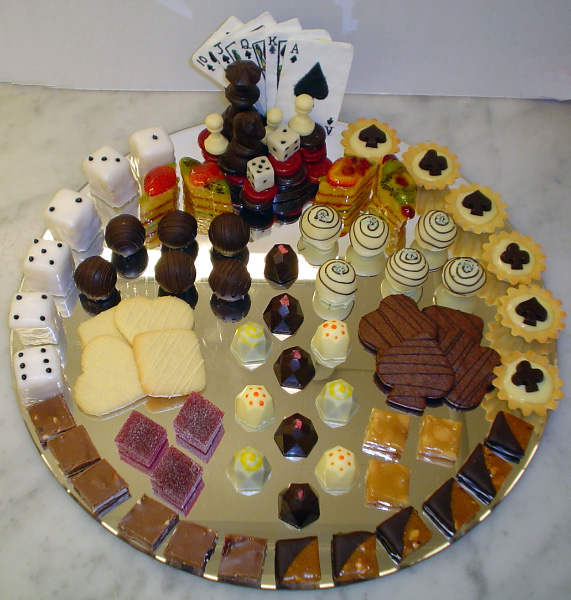 My centerpiece was made of chocolate, pastillage, and marzipan. Next time, I'll try to roll the pastillage thinner.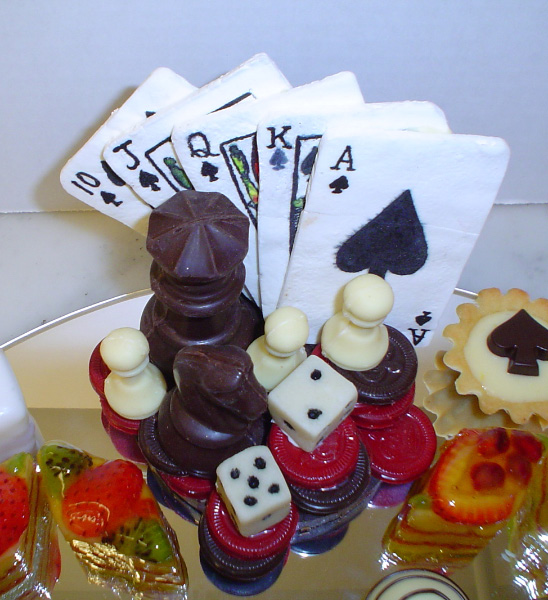 Chef Ian quite liked it. He said my centerpiece was nearly perfect; only he'd have rolled the pastillage a little thinner, but he'd had loads more practice doing it, and knew that someday I'd be able to do the same. Otherwise there were a few flaws - my ace and king cards had broken in half, for instance, but the piece was balanced very nicely and he loved how I put it together. I got 29 out of 30 points for it.
My petit fours sec were perfect, he said, though he saw that I had made checkerboard cookies and was sorry not to see them on the tray. They would have been perfect. They would have been too big, I told him. They were twice the size of my other cookies. My petit fours glace were glazed a bit too thickly and globby, so I got docked a few points there. My chocolates were nice, but the truffles were decorated a little off - too many swirls on the white truffles, and he couldn't taste the raspberry in the dark chocolate ones. My other candies were great, he said.
And for overall presentation, he loved the theme, and thought I decorated the mirror very nicely, though it was a bit too crowded, and he'd have liked everything arranged in rows rather than sectioned off. (Though later Chef Assistant Erica said she liked that my tray wasn't all in rows like everyone else's; that was so boring.) All in all? My final score was 95%.