The third cake I was asked to provide for the graduation party was for the vegans. I'd never done a vegan anything before, so this one required a couple of tests. The result is not bad at all, but it certainly would not be confused with a proper carrot cake. The vegans at the party proclaimed this as the best carrot cake they'd ever had.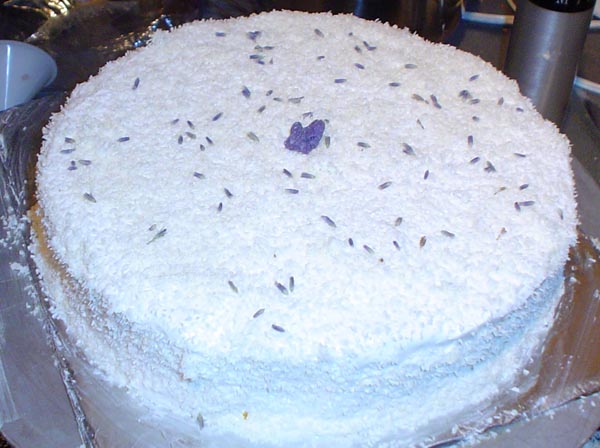 Want to make your own?
2-1/2 cups flour
2 teaspoon baking soda
2 teaspoon cinnamon
1 teaspoon pumpkin pie spice or allspice
1 teaspoon baking powder
1 teaspoon salt

3/4 cup brown sugar
3/4 cup sugar
3 egg equivalent of a vegan egg substitute (I used 4 tablespoons of Wonderslim Fat and Egg Substitute)

1 teaspoon vanilla
3/4 cup vegetable oil

2 cups finely grated carrots (a standard salad grate won't work - this cake is going to be really crumbly, and strings of carrots don't work, they pull the cake apart when cut.)
1 can (about 14 oz) crushed pineapple, drained
1 cup shredded coconut
nuts and raisins optional - if you use raisins, soak them in water for about an hour before using them, and then drain the water off.

To put it all together:

1. Preheat oven to 350°.

2. In a medium bowl, mix flour, baking soda, cinnamon, spice, baking powder, and salt. If you use cake flour, sift it - or run a whisk through it for several seconds to break up the clumps.

3. In a seperate large bowl, preferably a mixer, mix sugar and "eggs" until creamy and smooth.

4. Add vanilla to the suagr and eggs, then add vegetable oil. At this point, the mix looked kinda gross. Just keep beating it until it comes together and doesn't look so much like a pile of mud rolling around in oil.

5. Mix wet and dry ingredients together - add the dry in a bit at a time, or the flour will clump and get thrown all over the place.

6. Add carrots, pineapple, and coconut. The pineapple and coconut are for texture - you can't really leave them out, but you can probably substitute more carrots for the coconut if you really don't like coconut.

You'll bake this in a 9 x 9 dish, or a 9 inch round, or a half-sheet, if you want a thinner cake. Depending on the deepness of the baking dish, it will take 30 - 45 minutes. Bake it until a toothpick comes out clean.

The surface of the cake will need something to cover it - it's not terribly pretty. I suggest making a cream cheese frosting with Tofutti Better than Cream Cheese, or a simple powdered sugar/water glaze. The cake itself is very sweet, especially if you use sweetened coconut.

It's good - it's not carrot cake, but it doesn't suck.